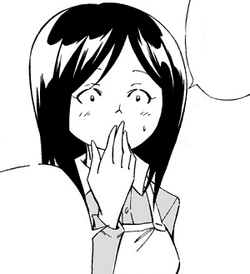 Yuu Ekoda is Shin Ekoda's wife. She is 31 years old and is pregnant with their third child after Shinsaku and Saishinsaku.
Appearance
Edit
In her few appearances, Yuu has been shown to be a young-looking woman, with a rather round face and eyes. She wears an apron, with a dress underneath, and has a visible baby bump. In the visions given to Yamato by Ultimo, she is seen attending a funeral her husband, wearing a long black dress and pearls.
Personality
Edit
Yuu is a kind mother figure and greatly trusts her husband, after hearing about Yamato Agari from him after he showed up in a patient's outfit to Eco Sushi. Also, it seems she is fond of Musashi Murayama, believing if Yamato is his "friend", then Yamato must be a good boy.